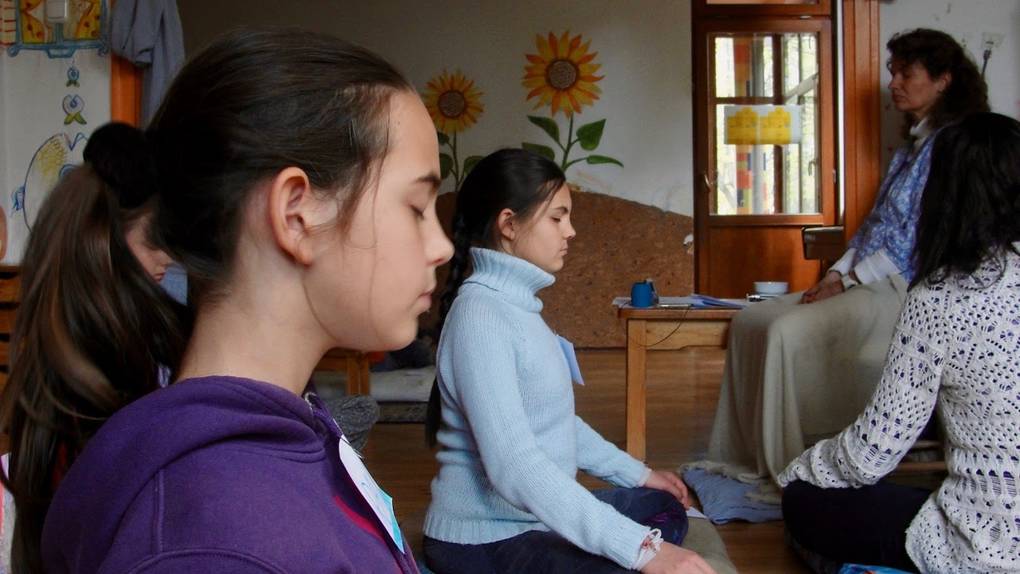 Who can take a course?
Courses for children and young people aged 8 to 18 are held several times a year in Sofia and other cities in Bulgaria. Anyone in this age group who sincerely wants to learn how to meditate is warmly welcome.
You can apply through the official webpage of Vipassana Bulgaria where you can find information about future courses. A parent or guardian is required to complete a form giving their consent for their child to participate in a course.
https://www.dhamma.org/bg/schedules/noncenter/bg
There could be separate courses for children (8 to 12 year olds) and young people (13 to 18 year olds), depending on the number of applicants.
Course Structure
The course starts in the morning and ends in the late afternoon. The participants learn the basics of Anapana in several 30-minute sessions distributed throughout the day. There are breaks for snacks and lunch as well as time for discussions, games, storytelling and artistic activities.
The children listen to mp3 recording and instructions and short talks given by S.N. Goenka.
Here is a sample timetable but there could be small changes depending on the age and number of participants.
8:30 - 9:00 Welcome and registration
9:00 - 9:30 Ice breaker games, orientation talk
9:30 - 10:15 Meditation
10:15 - 10:30 Fruit snack
10:30 - 11:15 Meditation
11:15 - 11:45 Short break
11:45 - 12:30 Meditation
12:30 - 13:00 Lunch
13:00 - 14:30 Creative activities
14:30 - 15:15 Meditation
15:15 - 15:45 Feedback session
15:45 - 16:15 Discourse and closing meditation session
16:15 - 16:45 Clean-up
16:45 Course end
Who teaches the course?
S.N. Goenka (1924–2013) was recognised as one of the world's foremost teachers of meditation. He began conducting meditation courses for adults in India in 1969, and in 1979 he started teaching in other countries. In his lifetime he conducted hundreds of meditation courses. He appointed more than 800 assistant teachers, who now conduct courses on his behalf.
The programme of Anapana meditation courses for children and young people began in India in 1986. Since then tens of thousands of children and young people around the world have participated in the courses.
Today, specially trained Children's Course teachers conduct the courses on behalf of S.N. Goenka. They are assisted by other meditator-volunteers, all of whom have completed at least one ten-day Vipassana meditation course, and who are certified to work with children.
Financing the courses
In keeping with the Vipassana tradition, all courses are run solely on a donation basis, and are therefore free of charge. All expenses are met by donations from those who, having completed a course and experienced the benefits of meditation themselves, wish to give others the same opportunity. In this spirit, children and parents may give a donation at the end of the course if they wish.
What kind of food is served on the course?
The food served on the course is simple and wholesome vegetarian food. It may contain dairy products. Some examples are: potato cream soup, hummus, baked vegetables, carrot muffins.
How do I get to the course?
Directions to the various rented course sites around the country are given during the application process for the particular course in question.